| Item ID | Starting Bid | Bids | Current Bid |
| --- | --- | --- | --- |
| 105994 | $4,500.00 | 0 | $0.00 |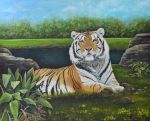 "Majestic Spirit"
48 x 60 acrylic inspired by a photograph of Mike the Tiger VI, taken by LSU photographer Eddy Perez (with permission of the LSU Strategic Communications Dept). "Majestic Spirit" is a collaborative piece by Baton Rouge General Artist in Residence Patti Bailey and contract artist Patrice Brewer.
Baton Rouge General's Arts in Medicine exhibit "Seasons of the Heart" will be on display at the Beauregard Gallery in Baton Rouge, Louisiana for the months of August and September. The exhibit is comprised of patient art as well as pieces by Baton Rouge General Artists in Residence. All pieces in the exhibit are for sale and benefit the Arts in Medicine program, however, only "Majestic Spirit" is being offered in this special online auction.
It is a well-established fact that art therapy has a positive influence in the healing process, both physically and emotionally. Through the Arts in Medicine program, professional artists work individually with patients, both children and adults, encouraging and assisting them with creating art, as part of this integrated program. The hospital itself is full of beautiful and uplifting patient art!
The online auction of "Majestic Spirit" will conclude at the Arts in Medicine exhibit Opening Reception at Beauregard Gallery, August 31, 2017. Auction will conclude at 7:00PM CST
Item Added: Fri Aug 4, 2017 03:31 PM